< Back to My Blog
February 12, 2016 1:43 am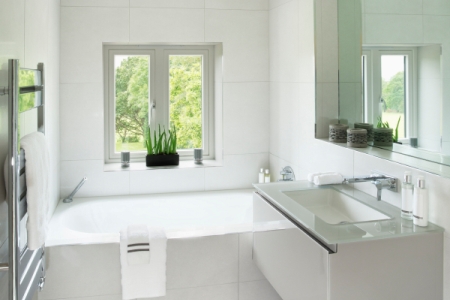 (BPT)—Dollar for dollar, one of the most valuable improvements you can make to your home is replacing the windows. New windows not only increase energy-efficiency, but also offer optimal natural lighting and ventilation.
The best rooms for new windows? Your kitchen and bathrooms, say the experts at Pella Windows and Doors. Before embarking on the project, they suggest these three tips:
1. Select a window material that fits your needs.
Kitchens and baths require windows that are easy to clean and can withstand moisture, so materials like vinyl or fiberglass are ideal. Fiberglass windows can withstand extreme heat and cold, are energy-efficient, and have the look of painted wood without the need for additional painting or staining.
2. Choose a window style with function in mind.
Kitchen windows are often placed above counters or sinks, and bathroom windows tend to be located above tubs, beside showers or above bathroom counters. The placement of these windows can sometimes make them hard to reach, so choosing a window style that's easy to open and close is a must. Sliding windows or casement windows—which crank open and close—are ideal for these hard-to-reach areas.
Ventilation is another key consideration in kitchens and bathrooms. A properly placed window can help decrease the amount of heat and moisture retained when cooking or showering. Awning windows, which can be pulled in or pushed out, are a good option, and perform best when placed close to the ceiling or above eye level.
3. Consider additional features and options.
If you want to maintain privacy while maximizing natural light in the bathroom, choose a window with obscure or opaque glass. Streamline the look and function of your kitchen or bath with between-the-glass cordless blinds or shades, which minimize allergens and eliminate clutter. Because these window coverings are tucked between the panes of glass, you won't have to worry about moisture or stains.
Source: Pella Windows and Doors
Published with permission from RISMedia.