< Back to My Blog
August 8, 2016 12:19 am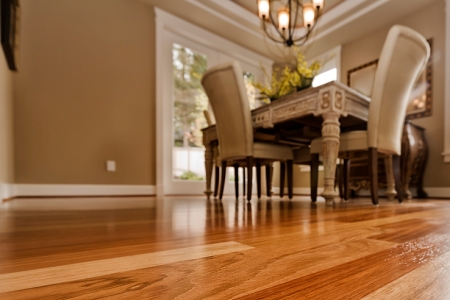 Wood or wood-like flooring can give your home a brand new look—warm, updated, and inviting. There are several factors to consider before making the choice.
Natural hardwood flooring is more visually appealing, but is twice as expensive and far less durable than laminate lookalikes. On the other hand, laminates, like Pergo, which cost half as much as hardwood, will not increase your home's resale value.
The experts at GeeksonHome.com tick off items to consider:
Cost
– Laminate flooring, which is made of pressed wood, costs $2 to $3 per square foot, while natural hardwood flooring costs between $3 and $6 per square foot.
Durability
– Hardwood flooring is sensitive to dents and scratches—a point to consider if you have young children or pets, or if your home sees high traffic. It can, however, be refinished several times over its lifetime, though that will incur additional expense.
Laminate, conversely, is impervious to stains and dents, but, because the wood veneer is very thin, it cannot be refinished.
Overall, the lifespan of laminate flooring is said to be 15 to 20 years, while hardwood flooring can last well over 50 years if refinished as needed.
Installation
– Installing laminate flooring is faster and easier than installing hardwood flooring, because laminate comes in sheets rather than individual boards, and is usually glued down, rather than nailed into place.
Moisture
– Hardwood flooring is susceptible to moisture and high humidity. It should not be laid directly on a concrete floor or in basements, where moisture can cause the wood to contract, expand and warp.
Laminate, to compare, is stable. Moisture will not affect or damage laminate flooring, so it can be laid on concrete.
Bottom line: laminate flooring is less expensive, more durable and easier to maintain—and today's laminate products do a better job of looking like natural wood than ever before. The quality of hardwood, however, is easy to recognize, will last a lifetime, and, if properly maintained, can add significant value to your home.
Published with permission from RISMedia.